At the dawn of the century, Youtube took the world by storm in its first year of existence. With its first video on April 24, 2005, few people expected a video hosting platform would one day reach 2.6 billion active users.
But in 2020, when TikTok reached 700 million users, it is slowly becoming who is taking the reins over the world of video content. While both tech giants give the opportunity to turn average joes into celebs and millionaires, we will take a look at which platform is the better choice to reach your audience and grow wealth and fame.
Let's crunch through some numbers.
Youtube Statistics

YouTube ranks second among the most visited sites in the U.S.
Over 1 billion hours of content is watched regularly. Also, it boasts of 2 billion active viewers monthly and more than 30 million users who use YouTube daily.
Thanks to user-generated content YouTube remains free with a couple of ads and sponsor videos to annoy your life in the absence of Youtube Premium.
YouTube usually showcases ASMR, reels, music videos, and fun-to-watch videos for audiences worldwide.  Content creators can share almost anything they desire because Youtube gives them the liberty and flexibility to do so, with a few strict exceptions that violate their rules.
YouTube is considered the most popular resource for watching online content because about 90% of digital users watch YouTube. According to Statista, about 500 hours of video are uploaded regularly and 1 billion are watched daily with over 22,000 Youtubers having 1 million followers.
Youtube probably needs no further introduction. It's just massive!
Tiktok Statistics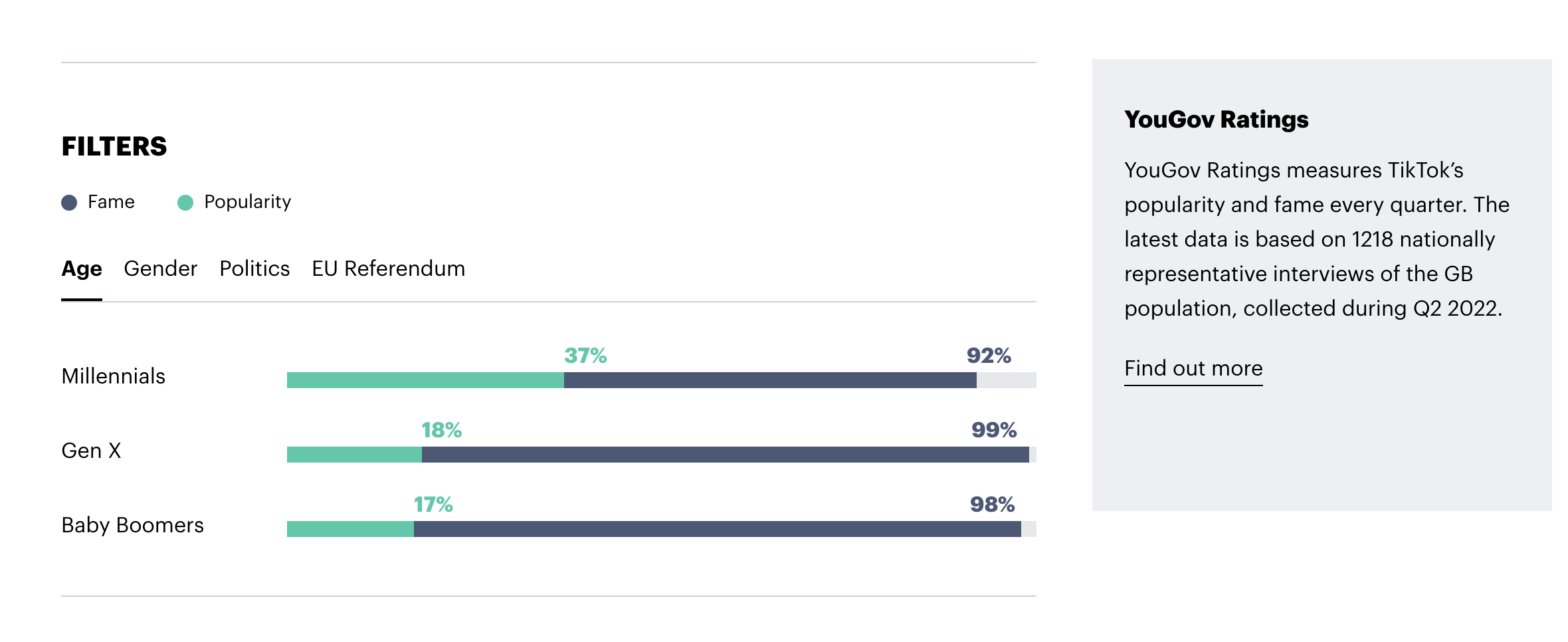 But let's look at the emerging giant: TikTok!
While not as big, . TikTok formally has over 1 billion users. This popular app has been downloaded more than 2.6 million times worldwide.
In September, TikTok installs grew around 31 percent from the prior month to reach approximately 3.81 million on the App Store and Google Play combined. This beat No. 2 Facebook, which had 3.53 million first-time installs.
Year-over-year, TikTok's U.S. installs were up 237% from 1.13 million in October 2017.
As floods of new users join TikTok, the app has also flirted with passing some of these leading social apps in the App Store's Top Charts at times, too. 
TikTok has over 138 million active users in the U.S. When it was launched in the international market, it became the most popular downloaded app in multiple countries. Tik Tok is more of a do-it-yourself video-sharing application. 
TikTok is a creative platform where you are offered the space to project your creativity, add short clips, speed them up or slow them down if you can. TikTok gained popularity when users realized their interest in creating video memes and showcasing viral trends.  It has over 2 billion downloads.
Simplistic trends are on a rise and it seems people can't get enough of them. TikTok videos are also the same as YouTube, they are very easy to make, just with the help of some available online video editors.
The Difference Between Youtube And Tiktok
TikTok and YouTube are two of the leading platforms for sharing self-made videos with a huge content and user base. TikTok is the international variety of the renowned Chinese app Douyin. 
Whereas YouTube was actually launched by Chad Hurley, Steve Chen, and Jawed Karin in 2005 and was later acquired by Google. 
Let's take a quick competition between TikTok and youtube and find out which will surpass the test.  First and foremost let's share our views about these two applications.  They are quite similar to one another in many ways, but also have a varied number of dissimilarities between them.
Let's find out how:
#1 Watch-Time And Length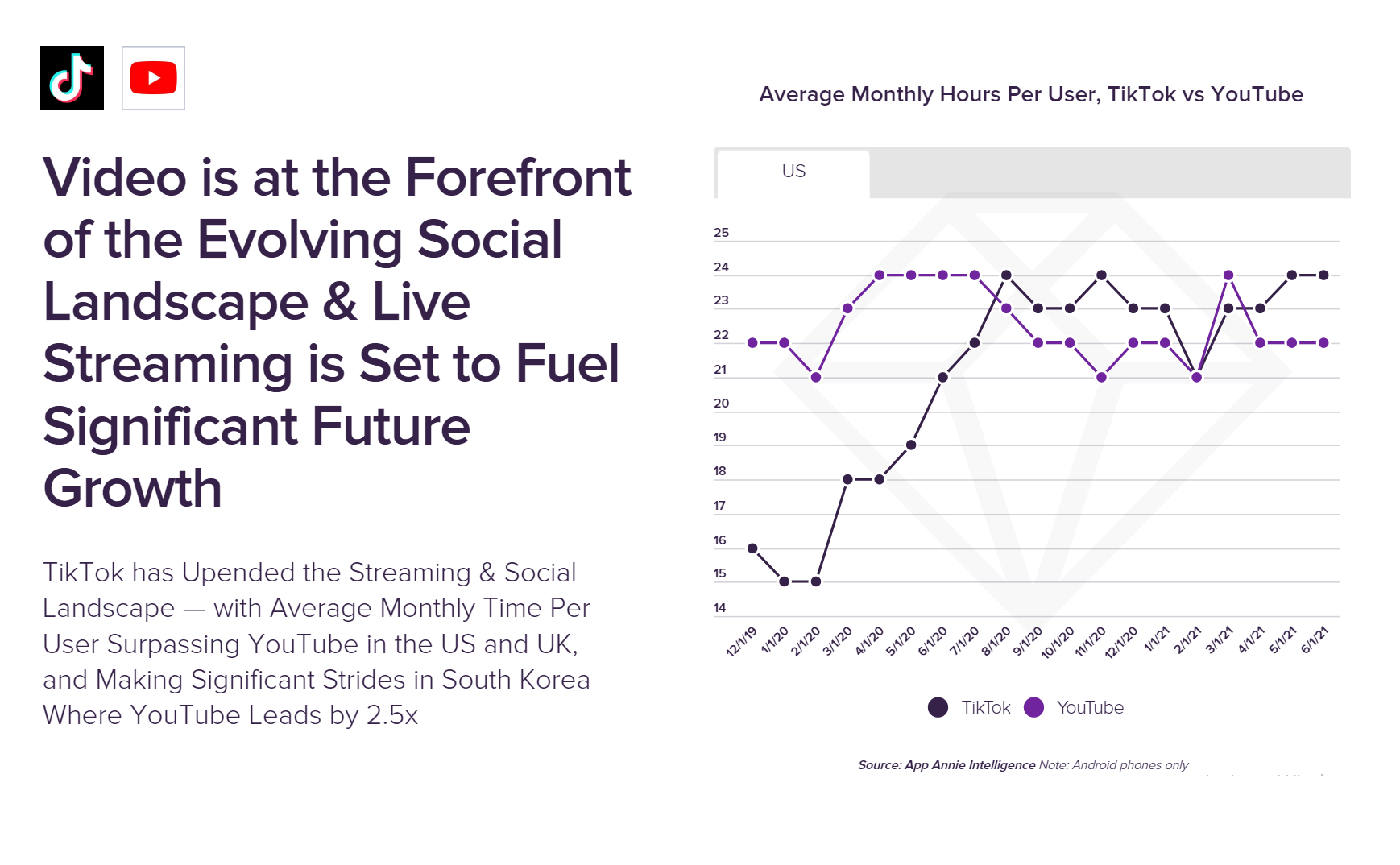 One of the most noticeable dissimilarities between YouTube and Tik Tok videos is the video duration. TikTok has a limit of 60 seconds per video upload. Providing the duration of just a minute to its creators for the main content, message, and call to action. At times the video makers find it quite difficult to fit in the entire content in a minute. Whereas YouTube provides its creators the longest duration for sharing videos. It encourages longer videos, implying that creators have ample time to showcase their content. Creators can upload videos of 15 minutes, and verified creators have no time limit.
#2 Targeted Audience
To decide which video-sharing platforms are better, you must break down their audience. People of all age groups resonate with TikTok, but if you take a closer view, you will find that it targets the age group between the ages of 16 to 24. 
It has gained quite a following amongst Generation Z . TikTok has 60 % of its audience that belongs to the age group under 16.  Whereas YouTube has more than 2 billion users, 57% of YouTube's global users are male and 44% female. 
YouTube has quite a wide range of different age groups. Their targeted audience is the age group of 18 to 29 years.
#3 Quality Of Content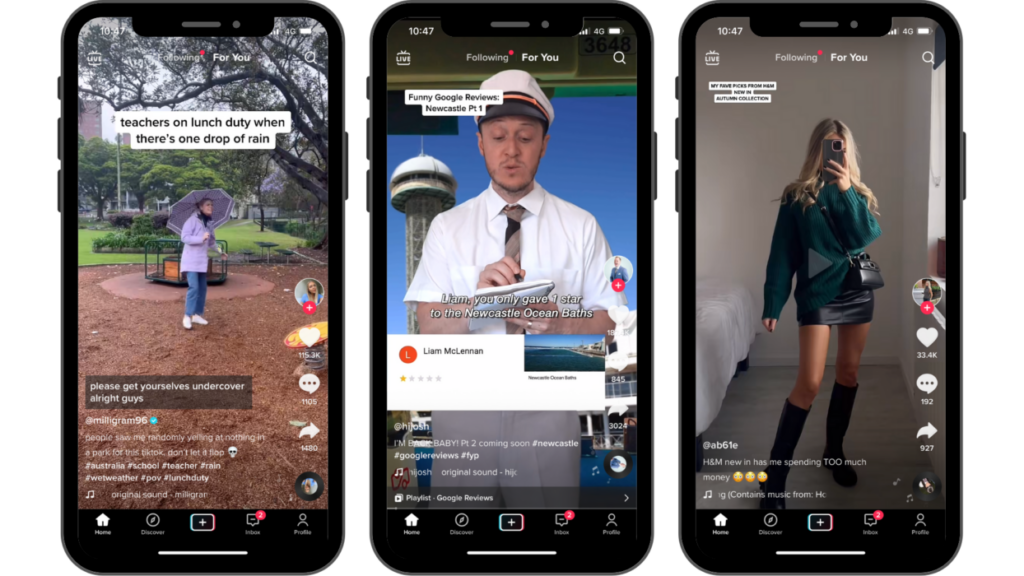 YouTubers often argue that reel makers on TikTok are mostly those who have nothing productive to do and are only to waste time. YouTubers usually complain about TikTokers making pretty good amounts without any considerable content. 
Whereas for YouTubers, it becomes more time-consuming as they have to devote long hours to researching and video editing to increase their subscribers. It's often said that YouTube provides information and knowledge, whereas, on TikTok, it's hard to learn due to its short duration of 15 seconds.
The higher quality educational content, the audience is much more appealing than a short, entertaining random video. When the quality of content is compared, YouTube overpowers TikTok.
#4 Users Demographics and Geo Distribution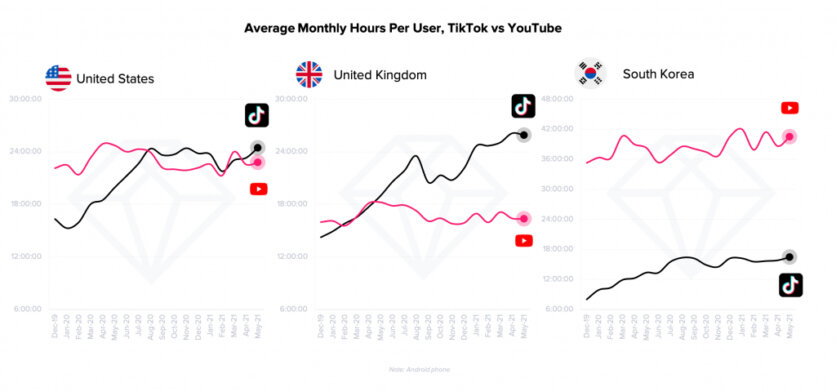 With an ever-expanding user base, TikTok provides brands with the availability of a large worldwide audience. Recording a  million users in more than 150 countries. Most of their targeted audiences are from China, followed by the UK and France. Compared to TikTok, YouTube serves a larger demographic. According to research, 85% of teens worldwide are regular users of YouTube. 
A vast number of the adult population below 65 are also YouTube users. Localized versions of YouTube are also widespread in 100 countries in over 80 languages. India records the highest number of about 227 million users, joined by the US, at 127 million.
#5 Which Can You Monetize More?
Both YouTubers and TikTokers are most likely planning for ways to make extra cash. In an article I wrote, I researched that top-income TikTokers can get paid between $100,000 and $ 250,000 for branded content per post making $5000000 for superstars.  
The Influencer Marketing Hub specifies that the actual rates an advertiser pays YouTubers are between 10 and 30 cents for each view.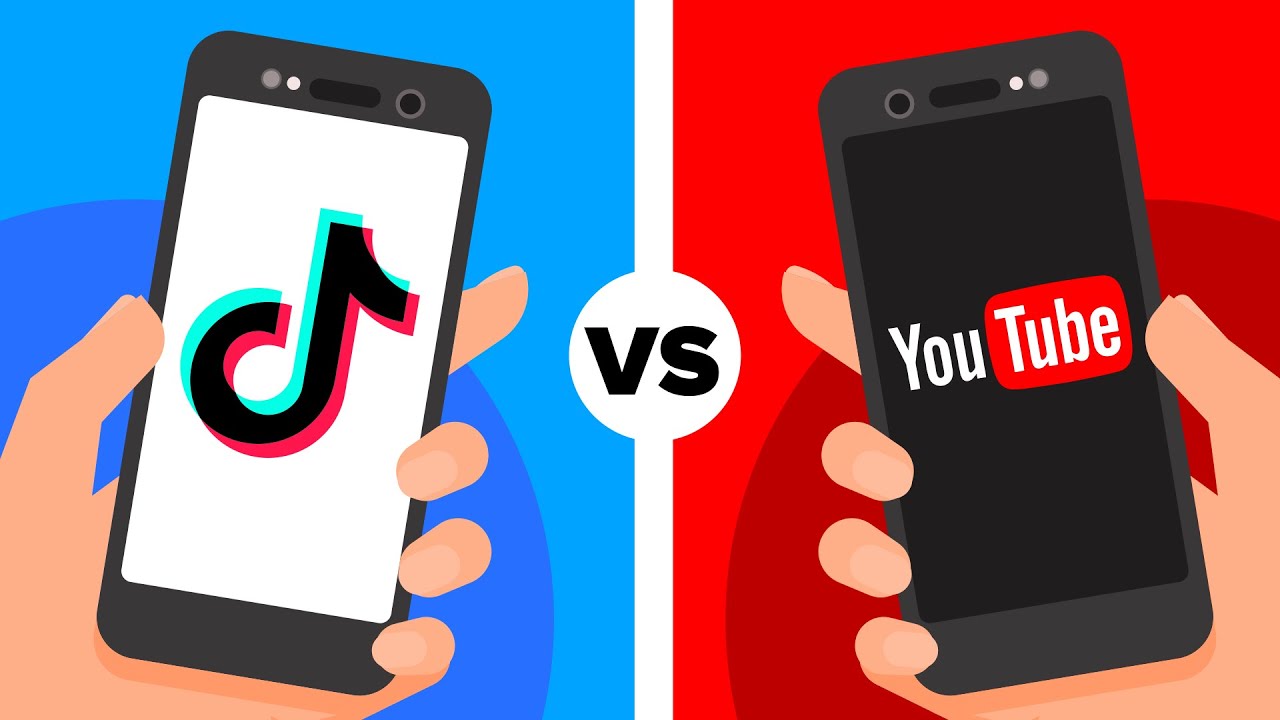 On average, a YouTube channel earns $18 per 1000 ad views. If you have 1000 views daily, your estimated income will be $90- $ 150. No matter if you have a large or a few subscribers on YouTube. Several brands look out for fresh YouTube marketing opportunities, with creators seeking to earn opportunities through promoting ads and affiliate links for products and services. 
Creating detailed tutorials and honest reviews is the same for the TikTokers. They follow the same affiliate marketing technique. Brands often sponsor TikTokers for promoting their products, reviews, and unboxing. 
TikTok can also make money by creating  TikTok's creator fund if they have at least 10,000 followers and 100,000 video views.
#6 Ad Formats Used By Both Youtube And Tiktok
Here we have listed some engaging ad formats for both TikTok  and YouTube:
When it comes to TikTok, marketers can make and promote a variety of formats and ad types. Which includes:
In-Feed Ads

Branded Effects

Top View Ads

Brand Takeovers

Branded Hashtags
YouTube: When it comes to business, YouTube is marked for its various ad types. These being:
Bumper ads

Masthead ads

Skippable in-stream ads

Non-skippable in-stream ads

Video recovery
#7  Music Rights Used In Both Platforms
Usage of background music on both platforms is a popular editing technique used by all content creators. TikTok allows the content creators to attach their music or songs of popular artists. 
There is absolutely no limit in TikTok to showcase your creativity regarding sound and music. Creators will not have to bother about copyright infringement. But for YouTube, the rules are a lot more strict because before uploading any music or using other artists' music, you need to be royalty-free or have the necessary permission from the artist himself.
Final Remarks
Content creators speculate that TikTok might gain more popularity in the video-sharing platform than it already has. But the YouTube platform is dynamic and ever-changing with educational, professional, funny, and informative videos. Which TikTok can hardly compete with.
It doesn't matter which platform you choose to showcase your creativity, YouTube or TikTok as long as your content is unique and a honey-pot for your targeted audience.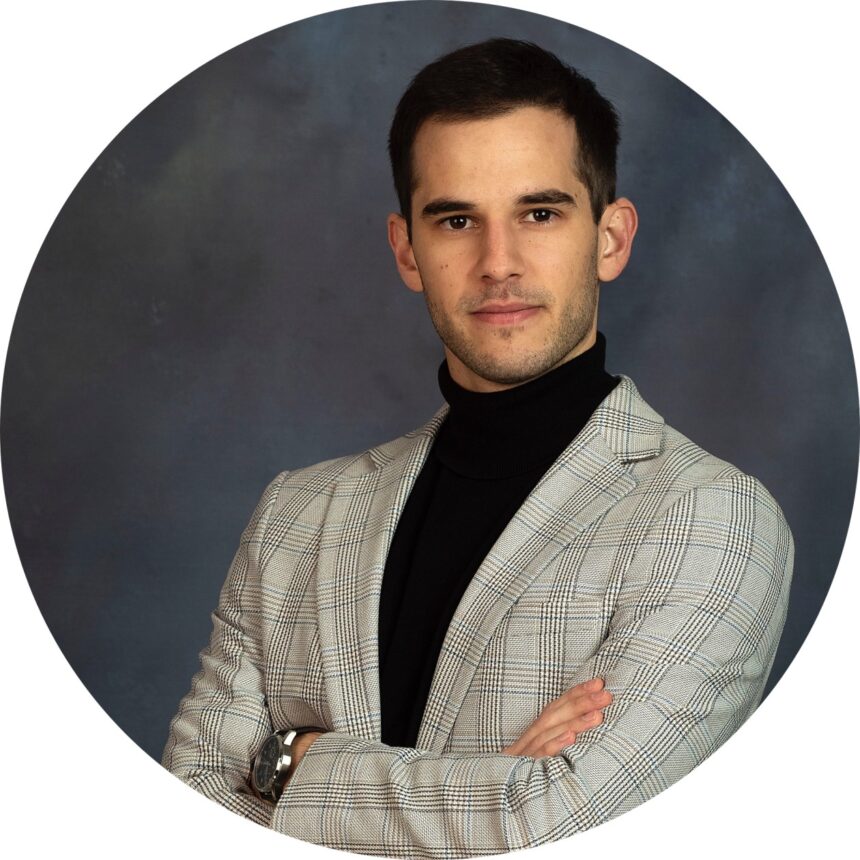 Robert is a part-time blogger and internet entrepreneur. Join Robert and thousands of other monthly readers to learn how to build and scale up the next-gen of online entrepreneurship. While running this blog, Robert is the founder of his media company, Times International, and a PR Team Lead at Lensa.