I've been an online entrepreneur for more than 5 years and blogging has been a crucial part of building an internet business and amassing my income. But before starting I had millions of doubts and thoughts about starting either a Youtube or a TikTok channel or having my content revolve around social media and remain anonymous.
Why?
Because there is a much better chance to make money with a blog than any other platform and keep yourself incognito. I personally write a lot of content on OnlyFans only because my audience is much more interested in OnlyFans marketing and money-making ideas than general business.
While many people would feel uncomfortable with these topics or just want to stay hidden and keep their profiles secure, there are many ways to scale up a blog and make money with your content while remaining anonymous.
Let's find out together how you can maintain an anonymous blog while building it into a profitable business or a side hustle.
How to Start a Blog Anonymously?
If you're new to blogging, let's go through several steps together!
First thing first!
You need to purchase two things:
Your domain name

A web hosting plan
I will recommend the most common CMS (Content Management System) WordPress to start your website. Most bloggers start out and recommend using Bluehost, but I also recommend it because it comes with domain privacy during your setup.

When getting started with Bluehost, most bloggers (including me) recommends choosing the Choice Plus plan because it comes with multiple perks like "Domain Privacy," which will protect your personal information (your full name, email address, phone number, and home address) from being published anywhere online.
Click on the green "Select" button on your plan of choice.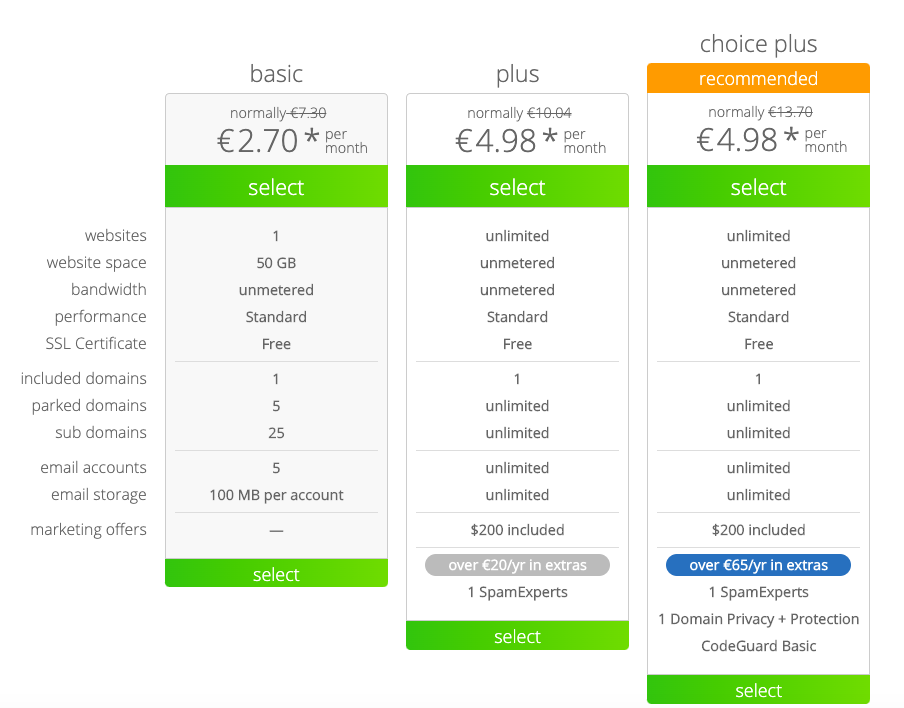 You can add the domain privacy later during the checkout process for around $1/mo.
2: Pick a sexy website name
In my blog, I use my personal name. Obviously if you want to stay anonymous you can either choose a company or a pseudonym that is available to you.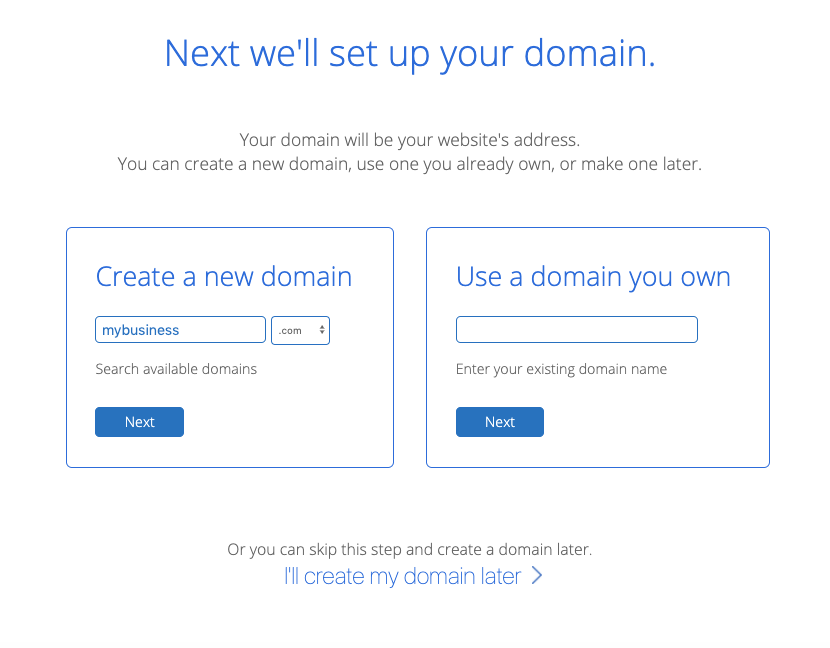 If your domain name of choice isn't available, you can either try another option that comes to mind—or select different domain registries such as .com or .net or .org. It is up to you, but my recommendation is always to go with .com if you want to run a global business.

Of course can always choose I'll select my domain name later.
3: Start your Account
Start by filling in your account details like your name, email address. It's VERY IMPORTANT to use an up-to-date email address because this is where your login details and account information will be sent. (Or connect through your Google Account.)
Which package extras should you choose?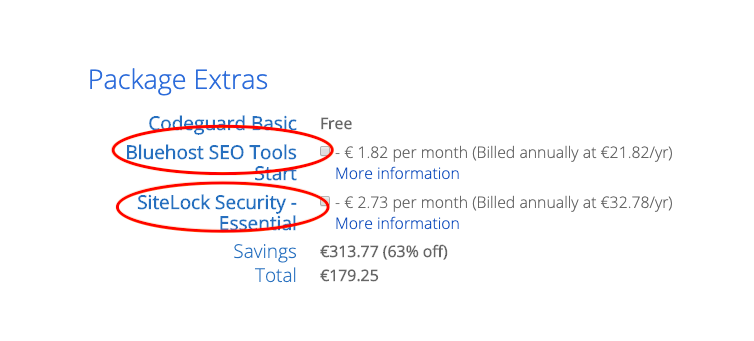 Sitelock Security Extras basically helps you protect your website from malware and malicious attacks. There are WordPress plugins that can help you with this, so I wouldn't worry too much, especially if you are starting out as a small anonymous blog.
Bluehost SEO Tools provides insights into your performance. Also I'd say that this is not all that necessary because there are other ways such as Google Analytics or Monsterinsights.
As I mentioned earlier though, having the domain privacy keeps all of your personal contact information (your name, email, phone number, and address) private. Now, if you chose the Choice Plus Plan on the previous screen, then your Domain Privacy Protection will be listed as "Free" just like this screenshot above shows—it's included in that plan.
The total you'll now see is the amount you're going to pay today. Remember though, you won't have to pay again for 1, 2, or 3 years depending on the package you chose!
There's a 30-day money-back guarantee in case things don't go as planned with your blog.
4: Enter your billing information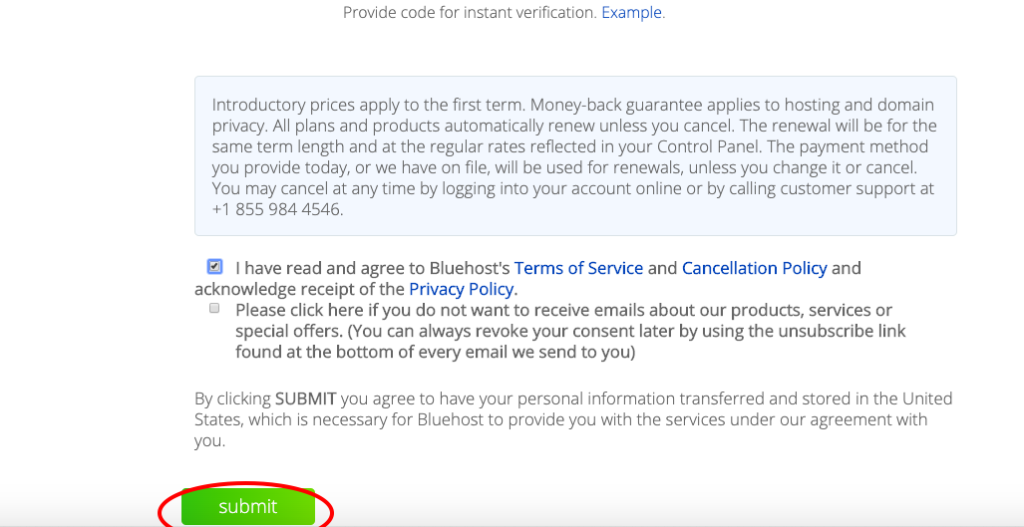 Now you'll input your billing information, check the box that you agree to Bluehost's Terms of Service, and then hit the green "Submit" button.
Congratulations!
You've officially completed the first major step in order to start your website.
With the initial signup process complete, it's time to move into the next stage of getting your website running and fully optimized.
3: Start using WordPress
Once you've made the payment, you will get a verification email along with payment verification. You need to verify your email first.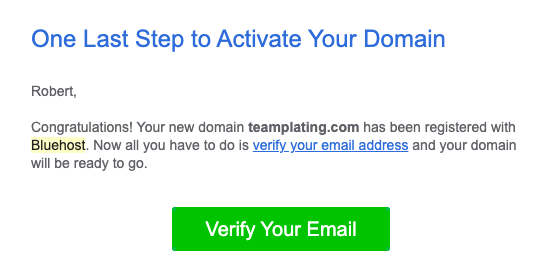 The following steps are very easy. All you need to do is enter your password and login details.
Next, you will be taken to a new page where you can select your theme, or simply scroll down and click on "skip this step."
There are dozens of new themes to pick and the ones I recommend will come for free. So you don't need to worry about these.
(What is a theme? A theme is basically the overall appearance of your website. With WordPress, you'll have thousands of themes to choose from, to decide what the outline of your website is going to look like. There are many paid themes, however, I will show you only the best-looking ones for free!)
If you've never worked with WordPress it will be super easy, I can promise you, this won't get too technical.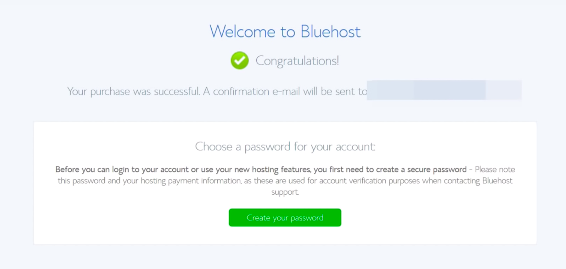 How to install WordPress and get friendly with its Dashboard
Once you've created your password you will be taken to Bluehost's dashboard where you can click on "Log in to WordPress" and be automatically taken to your WordPress Dashboard.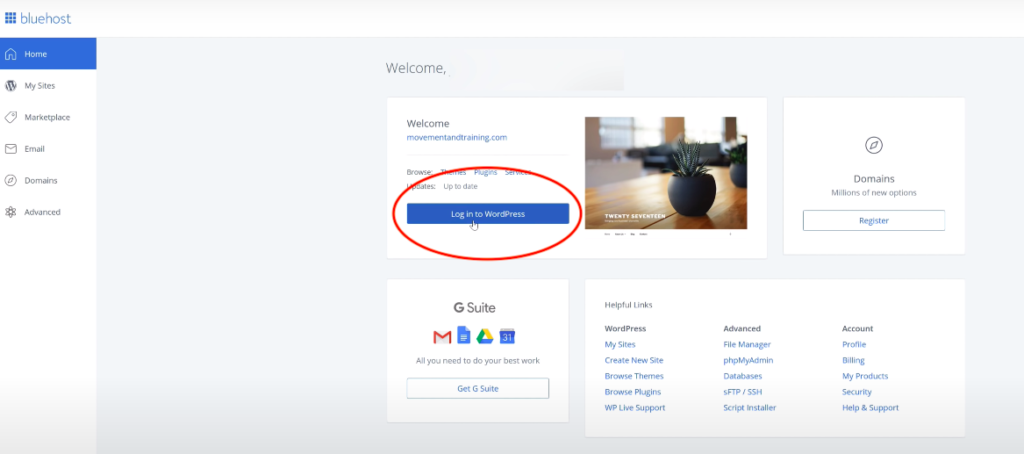 Once you get to this point, you can officially start the design of your website.
This is where the fun begins.
Below is your WordPress dashboard where you will be able to create
New pages,

design your website with a theme builder like Elementor and Astra

write and publish new content,

upload plugins,

create your webshop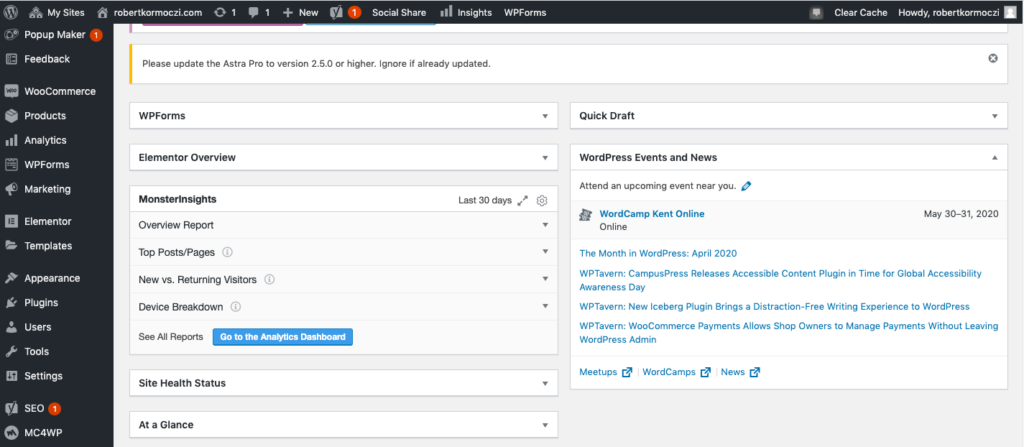 Now that you have your WordPress website set up and you're getting comfortable with its usage, it's time to build your content and brand your website to profitability while remaining anonymous.
How to Keep your Content Personal?
When it comes to successful blogging, there are two ways you can share content.
If you want to keep it personal with your own stories and blog about yourself.

Sharing valuable information and answering search queries.
it is better to focus on answering some of the most sought-after questions. Some of the biggest bloggers answer some of the most sought-after questions in their fields. They do create a bio or "about me" page where they can reveal themselves. But most successful ones focus on giving valuable information, which makes people keep coming back to their sites.
If you want to be successful and anonymous with your blog, focus on answering search queries and sharing knowledge with your audience.
Avoid Personal Photos
I do have a picture of myself and my fellow companion cat "Tummy."
But if you don't want the exposure as I do, you can use stock photos from free platforms Pixabay or Unsplash.
Be aware that oftentimes the owner of a photo might ask for reference or credibility pointing to his webpage.
Avoid Sharing Persona Data
When it comes to most successful bloggers, they tend to share or boast their successes like:
their monthly income reports,
organic traffic,
financial reports
miles stones like (becoming debt free.)
healthy living (for blogs that focus on weight loss and healthy consumption)
stay-at-home mom bloggers (who sometimes leak info about their residence)
Hide your IP Address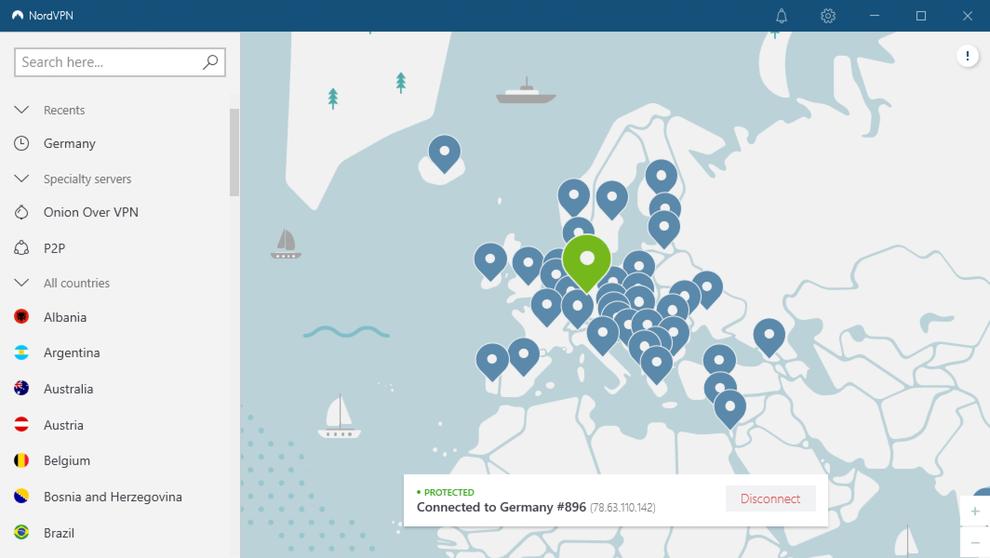 One way to hide your IP address is to use a VPN (virtual private network.)
You've probably heard VPN a lot from Youtube sponsorships or pop-up ads talking about securing your content.
A VPN gives you just what you need: online privacy and anonymity. It doesn this by creating a private network when you are using a public internet connection, hiding your IP (Internet Protocol) encrypting your connection. 
The most common VPN that I'd also recommend is NordVPN.
Refrain from using free VPNs. They're garbage!
Create an Anonymous Email Account
Bluehost offers a free email account through a system called Webmail.
Through this you get 500MB of email storage at your disposal.
You can set up a relatively anonymous account by avoiding any common data points like:
name

date of birth

phone number
You could also create one through a Gmail account. But you can only do that by providing Google with some other identifying method of contact, such as a third-party email address or a phone number.
Social Media Anonymity
Vice had a very interesting video once about how thieves and smugglers break into celebrities' homes who flaunt their wealth.
As an anonymous blogger aspiring to reach success or make money or just simply promote your business, avoid these kinds of mistakes. in fact, if you want to stay 100% anonymous I'd recommend avoiding mainstream social media channels like:
Facebook

Instagram

LinkedIn

Twitter
And rather focus on forums and threads that are more information and service-oriented like:
Pinterest

Reddit

Quora

Yelp
The reason for this is because these platforms offer less exposure to who you are. Platforms like Facebook and Instagram focus more on a person, while Reddit and Quora focus on information sharing.
Disable comments
Once you start building your first content and it gets lifted by Google's algorithm, you'll start seeing more and more emails.
There are three different types of comments that you'll observe
Most of these are spammy, so I'd suggest using a WordPress plugin like Akismet Antispam.

Secondly, there are promotional comments where you'll receive a compliment or an appreciation along with a URL that you should click on. Most of these will have the sole intention of promoting their own brand.

And thirdly the real comments, where people will respond to your article. You can simply use a "disable comments" plugin to get that feature removed so people won't bother you. 
This is important because your WordPress user account has its own Gravatar with its own profile or feature image. Even though you can modify it, it will still leave a trace of your device fingerprint if you answer someone's comment. This is why it's best to just shut the whole comment section down for anonymity.
How do you Build Traffic as an Anonymous Blogger?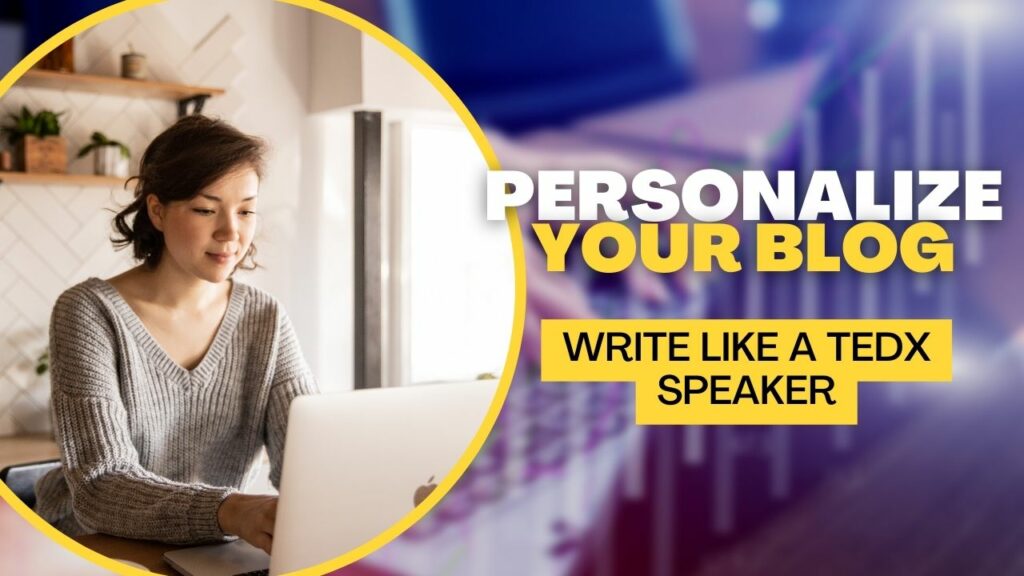 Now comes the interesting part.
Building attractive and niche-worthy content about your brand while remaining an anonymous blogger!
This is why having a WordPress site comes to your advantage. It keeps your website safe from malware hackers and keeps your anonymity secure.
Create new content on a regular basis
When it comes to blogging, consistency is key.
Having a schedule where you write 1 or 2 1500 or 2000-word articles a week is better than having 3-4 articles a day and then taking a break for the entire month. Why?
Blogging is a long-term commitment and SEO is kinda like Jesus. He works in mysterious ways. 😛
Jokes aside, to avoid burnout and keep your writing sharpened and motivated, consistency and scheduled writing are what keep the momentum going.
Share your Content on Medium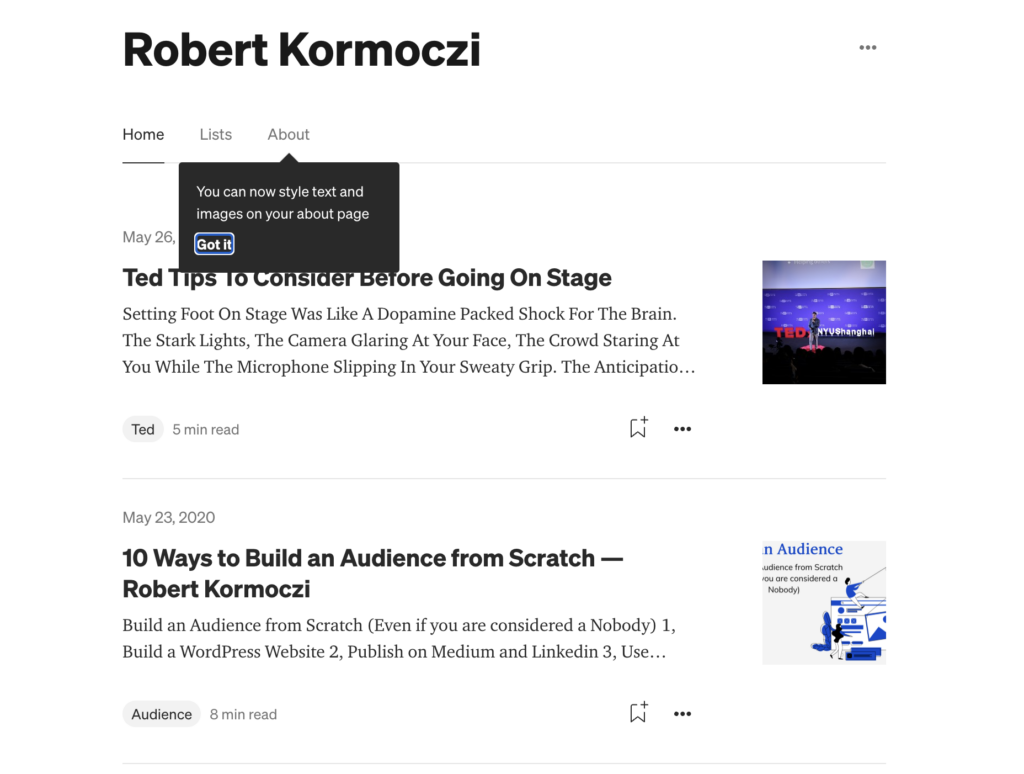 If you've spent a great deal of time writing new articles, you can capitalize on sharing your article via Medium. Medium allows you to create a kind of content (following strictly their guidelines) and remain anonymous. You have the option to create your own Medium dashboard.
Be aware though, that your article on Medium can outrank your original WordPress post. This means that people would rather go on Medium instead of your website to search for similar content. You could lose potential readers in the process.
To avoid this problem you can select the original article in your Medium options section and add the URL of your website's article.
At the same time, you can gather followers on Medium and double your readership.
Start Guest Blogging
At first, your blog will get minimum traffic. A few clicks here and there will appear but the numbers won't go up any time soon.
Just as I explained with consistency, blogging requires patience.
For this reason, I would strongly recommend guest blogging where you write for someone else while getting credited for your work through links, references, an author's bio, or a featured image with your blog's logo and name displayed somewhere.
Guest blogging is a great way to capitalize on someone's website and traffic and redirect it to your website. It's a pretty great PR strategy that you can implement into an outreach strategy to share your knowledge with others.
Guest blogging is not going to be easy. All high authority and high traffic websites get dozens of emails, asking for guest posts.
In order to stand out from the crowd, you need to share some valuable info for that website's readership to get a response from them.
How to Make Money as an Anonymous Blogger?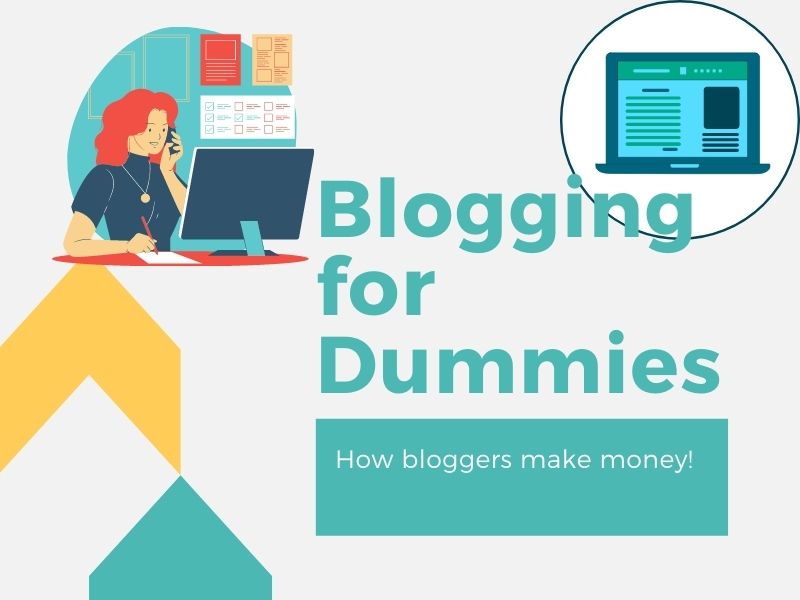 If you want to make money anonymously as a blogger, I would recommend focusing more on building passive income streams!
Why?
Active income usually comes from engagement with clients or providing a service, for example:
guest writing,

consulting,

creating a membership community,

providing any sort of active service for someone,
This would unveil the curtains on your anonymous identity. 
This is why passive income is your best bet to keep your identity hidden but earn some nice chunks of cash for your work.
No worries, there are plenty of ways to build passive wealth, (although not easy by any means.)
Affiliate Marketing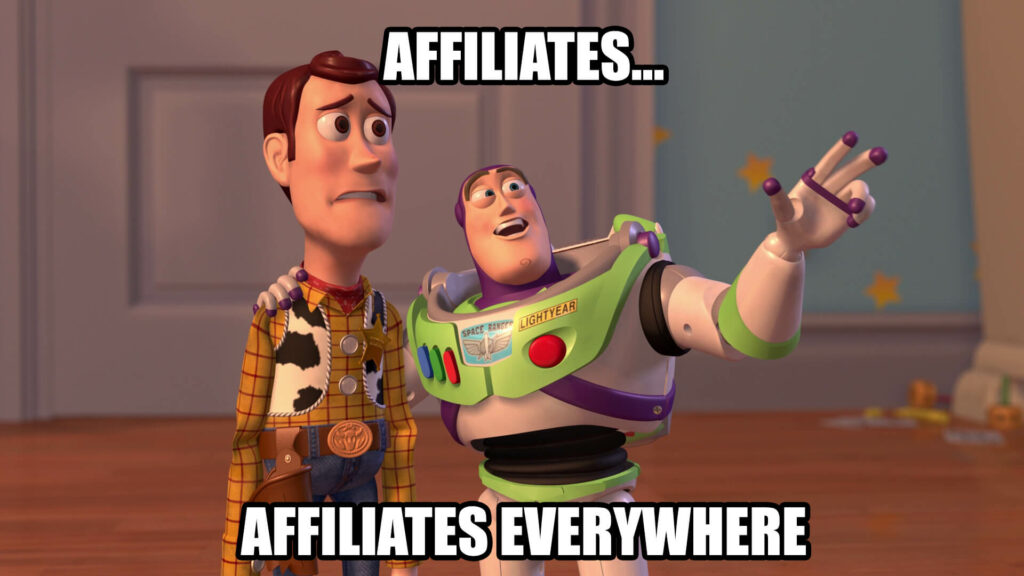 This is something you hear everywhere. Bloggers, Youtubers, influencers and online marketers boast about huge earnings through affiliate programs.
The idea of an affiliate is pretty neat. You become a company's affiliate and promote their product or service to get a cut of the sales price.
The barrier of entry is very easy! 
What they don't tell you is how unbelievably difficult the entire affiliate marketing world works. With millions of people recommending different programs here and there, the entire market is oversaturated. 
If you wish to pursue an income through affiliate programs, you need to establish yourself as a thought leader in a niche and recommend a program that suits that niche perfectly. You need to believe in what you're promoting otherwise people will see through the bullshit and lies.
Adsense
Ad revenue is the first thing that I tried out when I began my first website.
Needless to say, it provides an easy passive income, but the amount you get is tiny! So tiny in fact that for 10,000 monthly visitors, you'll earn probably 20-30 dollars (depending on multiple factors.)
Be aware that Adsense is easy money, but it's too little to support you entirely and you need hundreds of thousand-page visitors to earn at least the US minimum wage.
Sell Digital Products
What's really great about WordPress is its ability to cater to average bloggers, to Ecommerce enthusiasts.
By using WooCommerce and an Ecommerce theme builder, you can set up your own webshop entirely for free. 
You have the opportunity to sell:
ebooks

online courses

PDF checklists

Stockphotos

digital resource kits
Disadvantages of Anonymous Blogging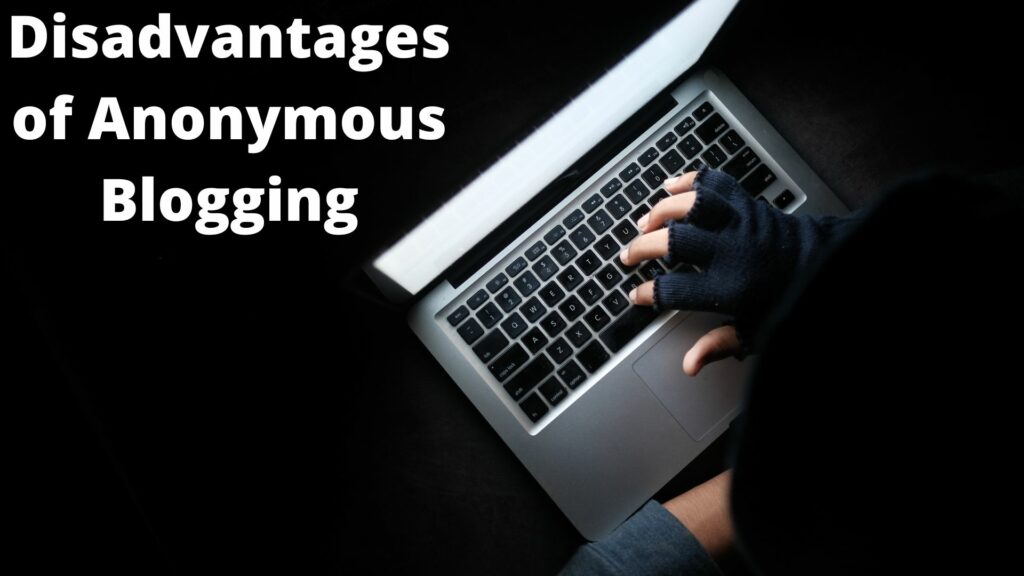 There are several cons to building a blog or an online brand if you'd like to remain shrouded in anonymity.
Your income streams are limited
While passive income through affiliate programs and Adsense is great for small-scale income streams.
But the real money comes from sponsorships, display advertising, consultancy, and ghostwriting. For all these things you need to have a trustworthy profile, similar to LinkedIn. This way people know your skills and abilities and can trust your abilities.
Your income is very limited this way.
Building a trustworthy brand
How can you earn people's trust if they don't know you at first?
Your blog is like your resume. Having a name and a face attached to your blog build trust between you and your page visitor. This makes the credibility of your eCommerce and sales tactics much more difficult.
Final Remarks
If you wish to share some sensitive content or want to protect your identity, there are many different ways to keep yourself your identity in anonymity. Blogging requires a lot of consistency and work, where you'll share a lot of data.
But by following the aforementioned points, the odds of remaining completely anonymous will be in your favor.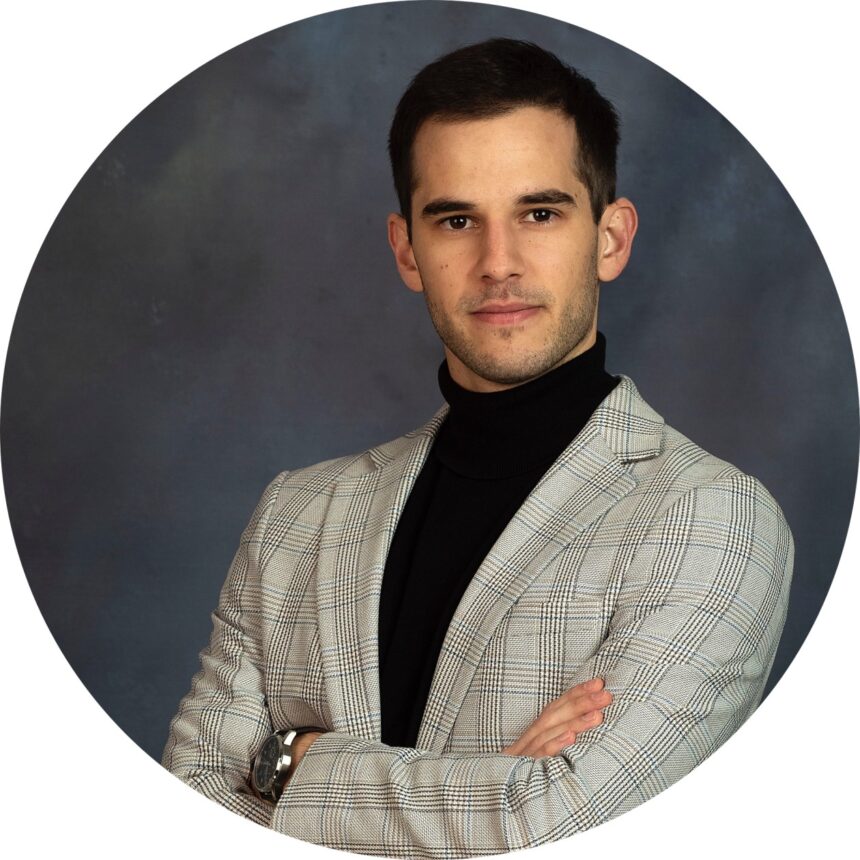 Robert is a part-time blogger and internet entrepreneur. Join Robert and thousands of other monthly readers to learn how to build and scale up the next-gen of online entrepreneurship. While running this blog, Robert is the founder of his media company, Times International, and a PR Team Lead at Lensa.